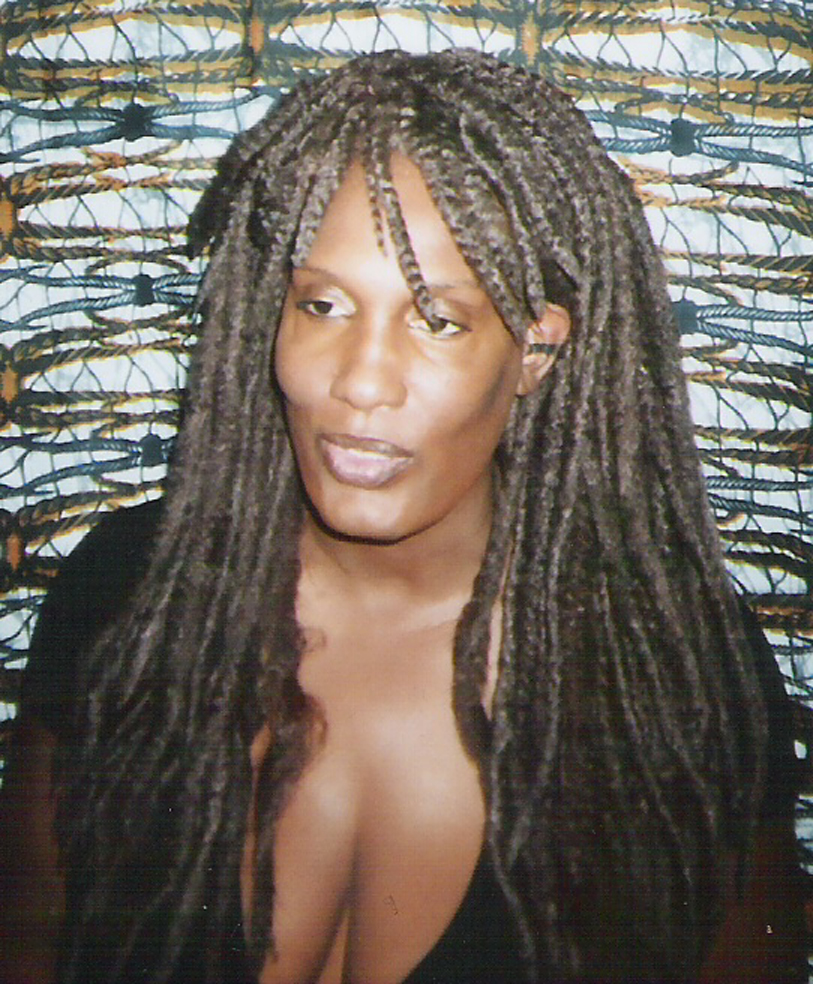 Egyptian-Sudanese-American novelist and poet Kola Boof has been an agent for Sudan's SPLA and was the National Chairwoman of the U.S. Branch of the Sudanese Sensitization Peace Project. She has written for television and her many books include, "Flesh and the Devil," "Long Train to the Redeeming Sin," "Nile River Woman" and "Virgins In the Beehive." She blogs at
Kola Boof. com
Critics and supporters have been writing about me for years now. They claim that I'm a fierce Warrior Queen—the word "powerful" being far and away the term they use the most in describing my persona as a literary figure and woman. Many of them speak of me in awe (which makes me giggle knowing what a pussycat I am). But amazingly—not a single one of them has ever correctly charted where exactly this strength and power comes from.
It comes from the fact that I had two wonderful fathers.
First, my Arab Muslim Egyptian birth father, Harith Bin Farouk—then, after his murder, my adoptive father (my dad); the greatness that is Black American Marvin Johnson. In between those two men, was the White Irishman who looked after me for one year on behalf of UNICEF, Owen McAnnis. Not only was Owen McAnnis the first White human I'd ever seen in person, following my birth father's death and my Egyptian grandmother giving me to UNICEF, but due to his love, kindness and commitment, he became the link that preserved my sanity and made it possible for me to transition at eight years old from the Grand World (Racist Islamic war-torn North Africa) to the gaudy, rights-laden Western World (Racist United States).
So you see I am not by any means a "fatherless" literary voice. The fire, sense of entitlement and forcefulness that pervades my voice is because of good fathering—not the lack of it.
Today, I would like to follow up an earlier piece I wrote "The 12 Mothers of Kola Boof" by acknowledging the male public figures who meant the most in influencing and shaping the woman that I have come to be. There are literally hundreds of men in the public sector that impacted my life and my development in a positive way. But these 12 are the ones who affected me so profoundly that I feel in some way indebted to them.
#1—Malcolm X

There aren't really words to describe to you what Malcolm X means to me. But as Ossie Davis said at Malcolm's funeral, long before I was born—"He was our Black shining manhood." In my country, Sudan, to this day the downtrodden Black people call him "Red Rooster Kang." They talk with tears in their eyes about a slim, gentle-faced "yellow one" who came to Sudan and revealed him self to be a true lost son of Africa. He didn't just visit the then-British-controlled Black Arab regime in Khartoum…Malcolm traveled south to the actual Authentic Blacks; the Cushitic regions. He stayed there. He kissed, hugged, ate and partied with the Charcoal Black People. He slept in their huts and fished with the men and fed cattle with them. He told the people that he was their son—their son returned home. All and forever, you hear the Dinka, Shilluk and Nuer say of Malcolm: "He loved, loved, loved Black people…we should all be like that."
And to the core of who I am, that is how I wanted to be. I wanted to be like Malcolm.
Of everyone on the list—this is the man who most informed and shaped me as a young girl developing an artistic eye. While other Black women seek to be like Christ, I seek to be to the universe as Ousmane Sembene was in his art. Truly, he is the greatest Black filmmaker the world has so far produced. And nowhere on earth has any filmmaker so perfectly captured on celluloid the answer to that elusive yet gnawing question: "What is an authentic Black person?" Of course, Sembene's films go much further than simply presenting the authentic personhood of Blackness in its free and organic state. But to my spirit, Sembene is equal in importance to what Toni Morrison means to me as a writer, a woman and a Black. He is completeness absolute.
My sons are required to watch the films of Sembene. This to me imparts to their souls some "ethos" of being African that I cannot put in words.
If you are a Black person, then I would say that Sembene is your father. He is the Great Father of us all.
I got to speak with him two years before he died. I called him in Morocco and told him how much I loved him; what his films meant to me as a little orphaned African girl living in America. I had assumed that he had never heard of Kola Boof, the Womanist Writer—but when I told him who I was he quickly scolded me for my anti-Islamic campaign in the West. He chastised me for having played prostitutes in Arab films—but praised me for being bare-chested. I giggled and patiently listened. But then he rambled on about environmental issues until he thought I was someone else. He was old and very sickly. A nurse (or family member) took the phone from him and hung up without saying goodbye. I stayed in bed for two days after that; speechless. But forever and all, that remains a true blessed moment in my life experience—the fact that I got to tell "my Jesus" Ousmane Sembene how much I love him before he was gone.
Throughout Africa, we've always truly loved this Jamaican Warrior far more than we did media/academic darling W.E.B. DuBois. Don't believe it when the American Scholars try to tell you about Garvey. So much of what they have to say is because they're Mulattoes or because, on some level, "niggerstock" can only speak and dream the speeches and dreams they've been given by the people who own them. Marcus Garvey was a Free Black Man. Not just on the sidewalk, but in his mind, where it counts. He was nobody's patient step-child; never played the intellectual piano recital that Henry Gates does. Garvey symbolized exactly what Malcolm X tried later to continue—a true Black aesthetic of thought, self-determination and African empowerment.
His wives (Amy Ashwood and Amy Jacques) were both Womanists. The first Amy was Dark Skinned and the second Amy was Mulatto. He married strong activist women, wrote loving poems about both women, and as I grew up reading the history of his struggle, his choice in wives and his public declarations of respect for his wives affirmed me in many ways.
You can have Henry Louis Gates, Cornel West, W.E.B. DuBois and John Edgar Wideman. Give me and my children Marcus Garvey. We need life…on our own terms!
Other than myself, I can't think of a writer whose work is more suppressed, banned and lied on than that of Nigeria's iconic Scholar Chinweizu, The Great. His mind is so brilliant that Toni Morrison edited his first book, "The West and the Rest of Us" at Random House. And he counts among his close friends, "lesser" but more celebrated talents than him—Chinua Achebe, Nurudin Farah, Ngugi Wa Thiongo. Western media tells you that Achebe, Thiongo, Fanon and Soyinka are Africa's strongest Lions; but truly; Chinweizu is the definitive literary voice of authentic African manhood. I have argued with him, my elder, many times over the issue of "sexism," yes we somewhat disagree there—but—on the issue of race, identity and African direction, he remains the most authentic and truly African Critical Thinker that the continent has ever produced. His importance far outweighs Fanon and Soyinka, and in my lifetime, it is my goal to supersede the West and highlight that fact.
Just as White people love Martin Luther King but ignore and dismiss Malcolm X—as well, they hold up Soyinka and Achebe and try to pretend that Chinweizu, the Great doesn't exist.
To my delight, I am called by many in Nigerian literary circles and in the Nigerian Press "Daughter of Chinweizu" because people find me so raw and confrontational.
That is better than winning the Pulitzer.
#5—Professor Derrick Bell
As life would have it, I grew up to be a writer for one of the daytime soaps I learned English watching ("Days of Our Lives")—and, I grew up to be good friends with one of the men who most inspired and spoke to me as a teenager, the legendary law Professor and author Derrick Bell. What can I say? He's just unbelievable. People will undoubtedly remember Derrick Bell for the landmark strides he made as Black America's groundbreaking lawyer during the Civil Rights movement of the 1950's—1960's and for the classic bestselling books he's authored ("Faces at the Bottom of the Well," "And We Are Not Saved"). But really, knowing Derrick personally, he's a Dad—a total Cosby-like fantasy dad. I just can't tell you how much I love, respect and appreciate the profoundness of actually knowing him in real life. Our little talks have made a softer…less angry person.
He gave me what I call my "under the skin" identity by way of an essay he wrote on Blues women singers. In describing women like Bessie Smith, I felt very strongly that he was accurately describing me as well, as an artist; a writer and a sexual being. On a socio-gender level, I found it one of the most truthful, loving essays I've ever read by a Black Man talking about Black women. He didn't Camel-shit or patronize, he wrote of their sexual vibrancy and what that mean to him as a male; a lion experiencing the scent of the lioness den if you will. It's a very soil-sweet Pot Liquor essay, one so ripe with sincerity. God, I just fell in love with him. From there, I found much more of his work, particularly things he'd written about women being raped, and I must say—when one considers all the many daring things that Kalamu Ya Salaam has written about and in the defense of women—you realize what a gift he is to us. He is rare in that he's a man's man while still being what we as mothers should be shooting for in raising our boy children.
The Martin Luther King of South Sudan; our symbolic Bloodberry leader and man of eternal greatness. It's too soon after Papa John Garang's very suspicious airplane death for me to fully express what he meant to me. But for his funeral, I was asked by the SPLA to compose a poem ("Chol Apieth") that they used in burying him. That was a great moment in my life. I am proud to have known such a fierce lion as Papa John Garang; proud to have served him as a member of the SPLA (hand picked by Deng Ajak) and proud to have given my support to the Black South Sudan and not to the Arab North where I was born. When the government in Khartoum labeled me a traitor for writing the books I write, Papa John Garang and I laughed over the phone heartily. I took pride in being traitor to such a Satanic government…and Papa John Garang was proud of me, indeed.
Before I knew English, I used to hover in the basement with my Black American father listening to his impressive vinyl album collection. I'd done this back in Sudan with my Arab birth father and become acquainted with Nina Simone, Frank Sinatra and John Coltrane (the man for whose song "Naima" I was named; my Arab birth name being Naima Bint Harith).
In that basement in Washington, D.C. with my adoptive father, I came to be obsessed with the 1960's recordings of Dionne Warwick (what a young goddess voice!); blues records by Bessie Smith, Miles Davis and countless playing musicians; P-Funk by Parliament and Booty Collins; rock music by The Doors ("Break on through to the Other Side") and Chicago ("Does Anybody Really Know What Time It Is"—my favorite song for years and years as I was learning English); soul records by Otis Redding, Queen Aretha Franklin, STAX, Earth Wind and Fire and my favorite male singer of all time, Al Green. Glam-Fab recordings by the unbeatable Diana Ross, disco by Donna Summer and gospel stuff by Mahalia Jackson and Reverend Ike. We even jammed what my Dad called "Shit-kicker's music" by Willie Nelson, Johnny Cash and Loretta Lynn. But towering above all of these was one gorgeous album in a light blue and white movie soundtrack cover with a stunning Black woman leaping off the front—the album "CLAUDINE" by Gladys Knight and the Pips.
I'm now 41 and that album remains my very favorite album of all time. First, before I knew English, I loved and was deeply moved by the melodies and the spiritually ripened voice of Gladys. Then after I knew English, I became absolutely arrested by the literary merit in each of the song lyrics—you must read these lyrics! ("…to be invisible will be my claim to fame—a girl with no name; that way I don't have to feel the pain; All the things that hurt you so—no one would ever know; life so preciously just won't seem to be as free as they claim—freedom to be. Things are going fast to have found it all in the past…to have to take what you can get sure can make a heart upset—so I'll be invisible"….or…"they keep saying I'm a lazy woman, don't love my children and I'm mentally unfit—It's a hard sacrifice (hard sacrifice) not having me a loving man; Society gave us no choice, tried to silence my voice, pushing me on the Welfare—I'm so tired of trying to prove my equal rights! Though I've made some mistakes, why should they help mess up my life? So keep away from me—Mr. Welfare. Keep away from me"….or…."it's been a miracle for what you've done; please stay right by my side—two can be one—the righteous way to go. Anyone would know; or believe if I told them so. You're second to none. Love of all mankind should reflect some sign of the words I'm trying to recite. They're close but not quite, almost impossible to do—describing the makings of you."
These simple but soul-affirming lyrics were written by one man, the genius Curtis Mayfield. He's never gotten the credit he deserves.
And just what these songs meant to me as a little orphan girl from Sudan growing up in the so called Black Ghetto of America, I can't even tell you. They made me feel invincible and present. They made me think about life and think hard about what I wanted to be about. More than that, they planted the process of art inside me.
By the time I'd read Toni Morrison's novel "The Bluest Eye" at fourteen and listened to this album a thousand times, there was no going back. The foundation for "how to spin magic" had been laid inside my mind—wall to wall. I can never thank Curtis Mayfield enough for that. Everything that I do as a public image and writer is tinged and informed by the beautiful songs he wrote throughout my child and teen years. He tuned my heart.
"…make yours a happy home; make yours a happy home—we can do it; we can do it!"
I'm from that age when the Rev. Jesse Jackson was the first Black Man ever to run for President. I still remember the excitement that literally engulfed and ignited the spirit of hope in Black America. This man completely united it for one of the few times I've ever seen it (Black America) united. I think it was 1984 and I'd only been in the country five years; I couldn't speak English yet. But I remember it to be an extraordinarily moving moment of purpose and wonder for my Black American family and the community of Anacostia Park in S.E. Washington, D.C. where I'd been adopted and grew up. So much power, charisma and love for all people drove this man Jesse Jackson. I'd never seen a "Chief" like him before. He was handsome like a recording star, young, quick-minded, brilliant and just—fucking brilliant. I learned a lot watching him conduct his campaign, mainly the power of oratory skills and charisma. Amazingly, people have such short memories. They let a little Scandal in his persona life destroy the image of this great man. But whether it was Bill Clinton or that Mayor in New York caught with a Prostitute, I never cared about the sexual indiscretions of political leaders. Compared to their public service, it's meaningless and it's none of our business in my opinion.
I absolutely loved Jesse Jackson as a little girl and I still do. I don't care for his misreporting on the slavery-genocide in my country, Sudan. But I still look at this man as one of my childhood heroes. I still love him like a father. And you don't stop loving your father just because he made mistakes. Seriously.
I learned English by watching daytime soap operas. When you watch soaps, there is a "repetitive" continuity where each day the same familiar people are saying pretty much the same thing over and over again. After a few years, this really helps you to grasp English in "conversational" mode.
Of course, after using Rachel Cory as my speech model—haha!—I do have an "actressy" tone that to some seems fake. But hell, I speak English so well now that you'd never know I ever spoke anything else! And that was no small feat. I didn't want people to know that I was a foreigner.
For me, English started with "Another World" (my all time favorite soap)—a show that had been made into a literal institution before I started viewing it in 1980. By then, the man who had made the show an institution—playwright Harding Lemay—was gone and the show was crumbling. But everything about the show that I loved (characters; cityscape; structure) had all been laid and lastingly defined by Lemay. For years this powerful thing of style, nuance and beauty that Lemay had structured was still there in the skeleton form. I was entranced by Bay City, Mac and Rachel Cory—their writer son Jaime Frame, Aunt Liz, Cass Winthrop and the deliciously wicked and vicious Cecile DePoulgnac—a spoiled but beautiful young witch who'd stop at nothing to become a Cory. I really understood and sympathized with Cecile.
Later, I got into the Agnes Nixon soaps on ABC and the Bill Bell soaps on CBS. These two were genius artists, as brilliant as anyone working in motion pictures of on Broadway, because they understood real life and how to make it all transparent and truthful. Early on, I noticed that the most successful shows were the most truthful ones. And this is how I wanted my writing to be—addictive; emotional and meaningful to the reader. I fell under the spell of brilliant writers like Douglass Marland and Pat Faulken Smith.
In those days—soaps were really good. And in honor of that magical force in my daytime development as an artist, I have to credit Harding Lemay as my starting seed.
As a young woman, I read his plays and began writing my own using his structuring.
More importantly, I read his autobiography and it made me understand a lot of important things about CONTROL over one's voice and projects and why writers need that level control. I feel that Lemay was a father to my work because he held my attention for the better part of my development. He inspired me to want and demand Control of what is being said and conveyed.
And for a political artist, that is very crucial indeed.
#11—Josef Von Sternberg
Silent films were my best friends as a child. You didn't know how to speak English to be transported to and entertained by this dreamy Black & White world. And as I grew fonder and more connected to Hollywood's old movies, particularly women's pictures of the 1930's, I became entranced ("called" really) by the images created by this Austrian-born genius, Josef Von Sternberg.
He is not by a long shot my favorite filmmaker. I love Sembene, Raoul Peck, Hitchock, Abel Gance, William Wyler, Edmund Goulding, George Cukor and Steven Spielberg a lot more. But Von Sternberg is the one who initially impressed upon me the value in one being "larger than life." He showed femininity as a weapon! Everything about his films are "frosted birthday cake" rich and thick—but inside those layers; he always had
People are going to clown me for putting this guy on the list. For one thing, he's half my age and he's a friend of mine on TWITTER. He's a literary guy from Yale, an intellectual and a full time jokester. We've never met in person. But…hear me out.
In a time of tragic separation and discontent between Adult Behavior and traditional Black parenthood (and especially the absence of Black Fathers in the community)—Jon gives me hope for the future.
When we first met, I was a huge long-time fan of his online column. I assumed he was single and imagined him to be the typical horny young college jock. I tried to seduce him (I was fucking a string of college boys at that time and planned to lure Jon to my cushy little landing spot in California). But though Jon had been a football player, it turned out he wasn't going to be used as any cougar's "boy toy." He was madly in love with a beautiful and brilliant young girl from school that he adoringly calls "The Feath" and he soon married her. He and I stopped having our Twitter debates for a spell and then later re-introduced ourselves as socio-intellectual comrades of a struggle that only literary people can know—the never ending struggle to "say something."
Jon is a gifted writer and Critical Thinker. It's what makes me see him as an equal. But more than that, it's the love and devotion he expresses for his wife, The Feath, his old school commitment to "loyalty," and his excitement over recently becoming a father that absolutely makes me have to in some way try to draw attention to the fact that there are still some really good people in our community setting profoundly important examples of what we all should be.
Taking care of his newly born daughter, Jon recently posted on TWITTER:
"I call her diapers Dresden and Hamburg. And, my word, if she didn't Tokyo a cloth one earlier this evening."
Haha! Talk about a father's unconditional love.
It reminds me of the wonderful fathers I had growing up. And it gives me hope for other little Black girls.
Physically speaking, Jon and Feath also remind me of my birth parents back in Africa. My birth mother was a beautiful charcoal color, slightly darker than Jon Pitts Wiley, who I believe is what Wallace Thurman would call a "Blue Black." And my Arab Egyptian birth father was very light skinned, much lighter than "The Feath," a beautiful American Indian girl who looks Black American at the same time. Out of this has come the newly born princess that Jon so winningly calls "Juice"—symbolically, for me, the continuation of little black girls like myself.
It's what fatherhood is all about. Loving, being there and being committed. God bless the new young men who take this on this wondrous task and endeavor to be the best in it.