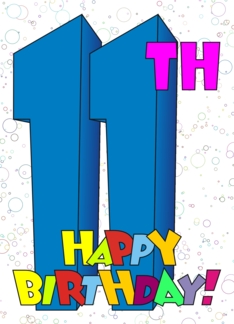 Eleven years ago today, my oldest son Destruction was born. I cannot believe how quickly the years have passed. To me it feels like just yesterday that I brought him home from the hospital. When he was a baby, I was absolutely terrified of him. Having a baby is a huge responsibility and I thought about the myriad of ways that I could mess this up. Together we developed a rhythm with him rewarding me with huge smiles and goopy kisses.
Today, he is almost as tall as I am, and wears the same size shoe as his father. I still see traces of his baby face, but I have to admit that he is well on his way to being a young man. It won't be long until I am looking up at my sweet baby boy and wondering where this man has suddenly come from. We have our moments when don't get along, but I know deep within my heart that the love between us is true. It manifests in those looks of concern when he sees me in pain, and in those after school kisses when he asks me about my day. We laugh and we hug. To be with him is to be loved in the purest way possible.
Recently, I have started to teach him to cook. I love being with him in the kitchen. He has turned into quite the perfectionist, though I have tried to tell him that mistakes happen all of the time. I love the look of pride on his face as he presents his food, and cooking together has for us become a way to share and continually renew our connection.
He has given me so many moments of pride. Destruction is gentle and kind. He is also extremely astute - dealing with concepts that I have seen so many adults have trouble with. He has the courage of his convictions in a way that I have yet still to grasp. He is uncompromising in his commitment to justice. If necessary, he is more than willing to call out his friends, teachers and even us. He is never shy about expressing his opinion and I have learned from him, just as he has learned from me.
They don't tell you when you have a baby about the fact that the exchange between mother and child is not one sided. He has acted as my carer since I have been disabled and I know that I can count on him. He has had to mature much faster than I would have liked, but the result is a remarkable boy that I cannot help but love and more importantly like. I miss his toothless grin and I miss when he could still sit in my lap, but in return I have gotten a mature, sweet young man who warms my heart. At this rate, one day soon I may be sitting in his lap but I know that whatever the future holds for my sweet son, that it will always involve love.
This year my sweet boy, as always I wish you nothing but happiness and success. I know that the coming years are going to be very difficult, as you negotiate puberty, but I want you to know that I am always and forever on your side and will do anything in my power to guide you and protect you. No matter how tall you get, or how far you may eventually go, I will always love you and if you take nothing else from our years together, please remember that. You have given me the purest love and the purest moments of joy. One of the happiest days of my life was the day you were born and you have given me so many good days just by being you.